In collaboration with the American Academy of Neurology (AAN) and American Brain Foundation (ABF), the MdDS Foundation is funding a Clinical Research Training Scholarship focused on MdDS. The two-year award totaling $150,000 aims to recognize the importance of good clinical research and to encourage early career investigators in clinical studies on Mal de Débarquement Syndrome and Central Vestibular Neurological Disorders. Applications must be submitted by September 14. Details are available on the AAN website.
While the AAN and ABF are actively implementing targeted outreach to solicit applications for this year's award, we need your help in spreading the word! Please share this announcement with the offices and clinics of your health care providers. This is especially important if they are associated with an academic (university) program. Ask your health care professionals to help in our search for early career investigators who might be interested in MdDS research training. Finding the cure for MdDS depends on it, and you!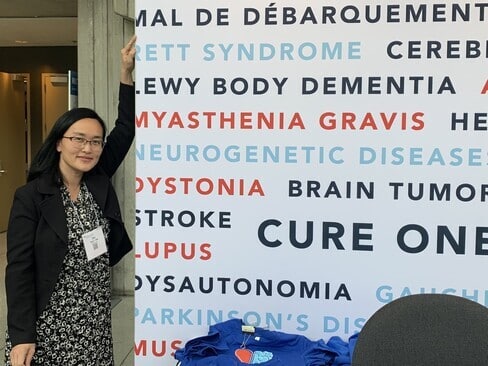 Diagnostic Criteria of Mal de Débarquement Syndrome
MdDS can be diagnosed and without laboratory testing. Dr. Yoon-Hee Cha led the international committee that established the diagnostic criteria. Excerpted from the consensus document of the Classification Committee of the Bárány Society:
A. Non-spinning vertigo characterized by an oscillatory perception ('rocking,' 'bobbing,' or 'swaying') present continuously or for most of the day1
B. Onset occurs within 48 hours after the end of exposure to passive motion2
C. Symptoms temporarily reduce with exposure to passive motion3
D. Symptoms continue for >48 hours4
Non-motion triggered individuals meeting criteria A, C and D are addressed in the complete consensus document, published in the
Journal of Vestibular Research
. Of further note, the diagnosis of MdDS is based on clinical history alone. Laboratory testing is unnecessary.
Commitment to Cures Gala
To raise awareness of Mal de Débarquement Syndrome, the MdDS Foundation was a HOPE sponsor at the recent American Brain Foundation Commitment to Cures gala. Celebrating brain disease research, the gala took place on April 26 in Boston, MA.
The evening was packed with special entertainment and inspiring stories from advocates and researchers who are working towards the cures of tomorrow. A record number of event sponsors with 36 individuals, businesses, and academic institutions supported the ABF's mission to "Cure One, Cure Many." Over $565,000 was raised, all of it going to support critical brain disease research.
We thank the AAN, the ABF, the other sponsors, and all who support life-changing research projects. A donation today helps us continue this critical work. Make a Donation
*CALL-to-ACTION: We are seeking stories and original imagery that depict MdDS to share throughout June.
To be considered for publication to this blog, newsletter, or any of our social media pages, send your story and artwork (PNG preferred) to
connect@mddsfoundation.org
and a board director will be in touch with you.
Add your voice to ours and make a bigger impact!