Hi, I'm Kate and welcome to my story of how developing MdDS after a terrible plane ride turned into a new candle making business called Rocking Candles.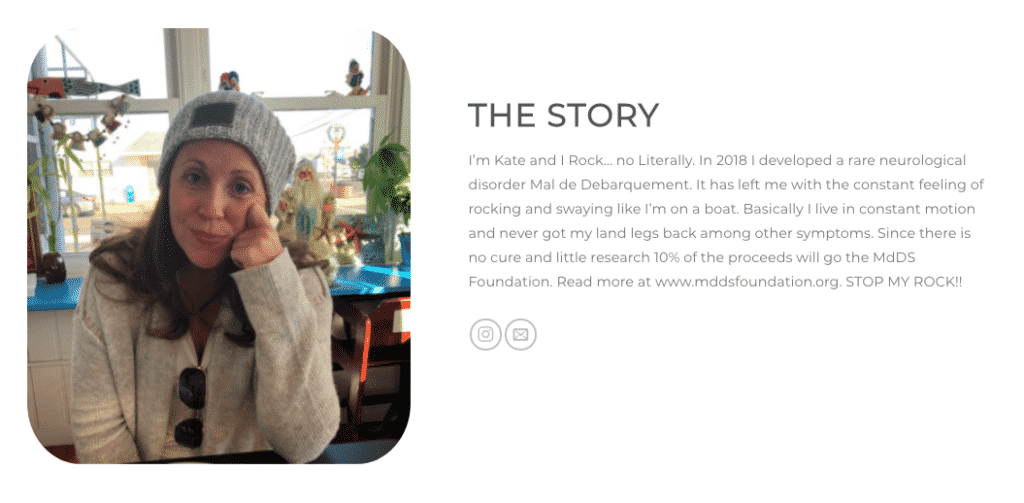 I was a fun, energetic 30-something who got off of a turbulent flight and my life changed forever. My world started rocking, the walls and ground were moving, and I felt like I was drunk on a boat. I thought I was going crazy. I couldn't even get out of bed, look at a screen, or walk without holding onto walls… my spiral staircase, just forget it!
Diagnosis was difficult but luckily after several different treatment attempts my ENT sent me to UPenn where I was diagnosed with MdDS. I've been to multiple doctors and therapies, Mt. Sinai for a study, but the answer remains the same. There is no cure. At this point I kind of lost my way a bit. I couldn't work, couldn't drive, I couldn't do a lot of things I was accustomed to, and I was lacking a sense of purpose.
Fast forward 3 years, I decided it was time to move forward. With little MdDS research and even less mainstream knowledge, I just wanted to help in some way. When quarantine hit, my boyfriend started working from home and I decided I wanted a project to work on to keep him company. After realizing that I burn candles daily for calming benefits and – let's be honest, just because I love them – I thought I'd try to learn how to make a few. Once I started creating them, I realized I could make them for friends and family to bring awareness to MdDS. I started with one candle named to incorporate "rock" in the title and then the names and scents kept flowing. "Rockin around the tree," (Fraser fir) "Solid as a Rock," (cinnamon bun) "Rocks no Salt" (margarita) are just a few!
10% of the proceeds go the MdDS Foundation
I make each candle in my home in New Jersey and have shipped to 15 states total, as far away as Alaska, so far. Since May, I've sold over 700 candles! A portion of each sale gets donated to the MdDS Foundation with hopes for continued research into finding a cure and, even more importantly, it brings awareness to an invisible disability that so few people know about.
One of my biggest joys has been having fellow MdDS warriors order candles and share their stories with their friends on social media. One warrior even made a special request of an unscented candle due to her sensitivity to smell with MdDS, thus "Classic Rock" was added to the collection.
I take MANY breaks, and my customers understand that I only have what's in stock because I am only able to make them on my so called "better days." It even motivates me to get out on my new tricycle to deliver my orders to the post office.
Giving back and explaining to others what daily life is like for MdDS warriors gives me purpose again. As tough as life is with MdDS, it still rocks! We can only continue to hope that one day we'll get off that boat. Visit me at www.rockingcandles.com to help give back!
The MdDS Foundation is thankful of Kate's generosity and support provided to the MdDS community. Please support her on Small Business Saturday, November 28, 2020, and every day. Remember, 10% of the proceeds from
rockingcandles.com
will go the MdDS Foundation.